Archaeological sites to visit in Australia
Australian Aboriginals initially came to Australia at least 50,000 years ago, according to archaeological remains discovered at Oenpelli, Northern Territory. However, there is evidence that they may have arrived even earlier.
Core samples collected from the bed of Lake George, New South Wales, are one example of Ancient Australia, however, scientists have yet to find any bones, tools, or charcoal from that time period. Most scientists and historians think that evidence of the first human occupancy of ancient Australia is most likely beneath the sea, having been drowned as sea levels rose following the last Ice Age.
The following are some of Australia's oldest and most interesting archaeological sites:
Oenpelli, Northern Territory
At Oenpelli in Kakadu National Park, scientists made two (2) noteworthy discoveries:
1. Archeologists have discovered indications of human occupation in Ancient Australia stretching back 50,000 years at Malakunanya. The artefacts discovered during this discovery are among the earliest ever discovered in Australia.
2. A collection of 20,000-year-old edge-ground axes was discovered in Malangangerra. Their antiquity places them among the oldest such tools discovered anywhere on the planet.
Cranebrook Terrace, New South Wales
Tools discovered in a gravel dump alongside the Nepean River, 60 kilometres west of Sydney, are considered to be 40,000-45000 years old. The gadgets are among Australia's earliest firmly-dated indications of human occupancy.
Upper Swan River, Western Australia
Tools and other relics discovered here show that humans lived in this area of Ancient Australia, north of Perth, at least 40,000 years ago.
Purijarra, Northern Territory
The 38,000-year-old stone tools discovered in this rock shelter 300 kilometres west of Alice Town are the oldest signs of human occupation in central Australia discovered thus far.
Lake Mungo, New South Wales
The tools discovered at this site are at least 35,000 years old. The most fascinating discovery, however, seems to be that of the world's first known cremation site.
Devil's Lair, Western Australia
This historic site at Cape Leeuwin has revealed traces of human settlement stretching back 33,000 years. Also uncovered at Devil's Lair were bone points dating back 22,000 years, making them Australia's earliest-known bone tools.
Sandy Creek, Queensland
The human presence there dates back 32,000 years, making it Queensland's earliest-identified Ancient Australian monument.
Bluff cave, Tasmania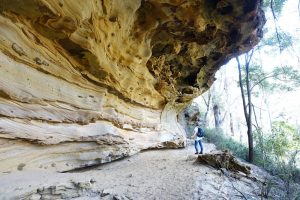 The 30,000-year-old remains from this cave in the Florentine River Valley, west of Hobart, are the earliest evidence of human activity discovered in Tasmania.
Koonalda Cave, South Australia
Local Aboriginals were quarrying stone in this cave on the Nullarbor Plain around 25,000 years ago, according to evidence. Designs etched on cave walls have been carbon-dated to 20,000 years ago, making them the oldest pieces of Aboriginal art ever discovered.
Seton Cave, South Australia
The Aboriginal people who lived in this cave 17,000 years ago were most likely wiped off when increasing sea levels cut Kangaroo Island off from the mainland.
Wyrie Swamp, Victoria
Wyrie Swamp, Victoria Spears, digging sticks, and boomerangs discovered here date back 10,000 years and are the earliest wooden implements ever discovered in Australia.
Keilor, Victoria
This ancient Australia camp on the Maribyrnong River near Melbourne Airport is Australia's most previously continually populated site. Archaeologists and historians estimate that Aboriginals have lived in the area for as least 40,000 years.